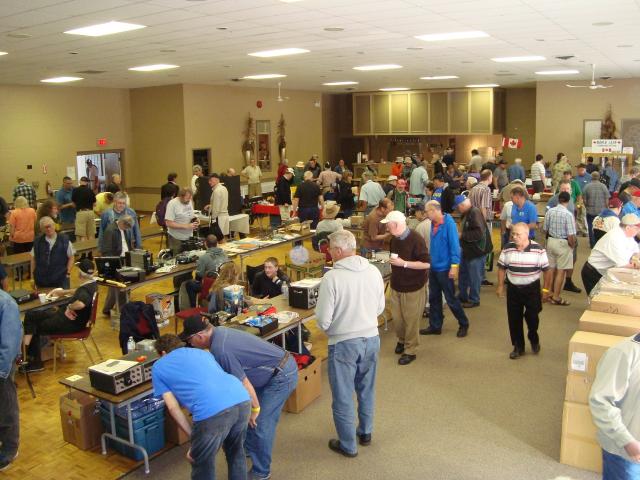 2020 and 2021 - 46th Central Ontario Hamfest CANCELLED due to the Coronavirus Pandemic
The Date:
CANCELLED due to the Coronavirus Pandemic
See you in 2022 :-(
Time:
Indoor vendors 7 am, Tailgaters 8 am, Public 9 am to 12 noon

Location:
Just west of Cambridge at the Waterloo Regional Police Association Recreation Park located just off the 401 between Exit 275 (Homer Watson Dr) and Exit 268 (Cedar Creek Rd)
We recommend you enter via Exit 268 (County Road 97, Cedar Creek Rd)
Google Map, or Open StreetMap of the site, Beside Hwy 401, between exits 268 & 275
GPS Details:
1199 Rife Rd., North Dumfries, ON
43.345, -80.419 (decimal)
43°20'46"N 80°25'6W (dd,mm,ss)
Admission:
$8.00, Youths 12 & under are free.
Vendors:
Inside 8' tables
$23.00 (Includes 1 admission)
Additional inside tables
$15.00
Tailgater spaces
$18.00 (Includes 1 admission)
Additional Tailgate Pads
$10.00
Additional Admissions
$8.00
Well over 40 years and still going strong - bringing together ham radio operators, hobbyists and enthusiasts just before Field Day and the summer heat. Indoor tables and tailgating; major vendors, loads of collectibles; free prize draws, tasty refreshments. Easy parking.

Contact: Nick VA3NNW
Phone: 519-884-3760
E-mail: info@hamfest.on.ca
Thanks especially to our volunteers for making this event possible!
---
Prize Donors and Sponsors
2019 Major Prize Winner
Major prize draw was made at 11:00
Major prize $100 Radioworld gift certificate:
VE3TCO Tanner Edward, Ontario
2019 Prize Draw Winners
09:10
VE3BVK
One Year Membership [Radio Amateurs of Canada]
09:20
VE3ARD
Gift Certificate $100 [TGM Communications]
09:30
VA3MJM
Gift Certificate $50 [Radioworld]
09:40
VE3DFI
Wattmeter/Power Analyzer [PCBoard.ca]
09:50
Ed Kaperski
Gift Certificate $50 [Radioworld]
10:00
VE3NXP
RF Choke [Maple Leaf Communications]
10:10
VE3CVS
Gift Certificate $50 [Radioworld]
10:20
VE3LMA
Arduino R3 [PCBoard.ca]
10:30
VA3RCX
Lightning Surge Protector [Maple Leaf Communications]
10:40
VA3HOD
Gift Certificate $50 [Radioworld]
10:50
Florian Glosnek
UHF No Ground Plane Mobile Antenna [Elmira Radio Club]
11:00
VE3TCO
Grand Prize - Gift Certificate $100 [Radioworld]